What are the Hardwood Flooring trends for 2020?
Is hard to keep up with the trends, it couldn't be different with interior design, one thing for sure is that you will never go wrong with  hardwood floors, however there are many styles, wood species and stain colors, I will tell you what the new trends are for this 2020.
Natural Beauty! 
Showing the natural grains and character of the wood  will never get outdated, the natural beauty of wood will make your space look sophisticated and traditional,  smooth grain pattern, wide boards, and an extra-matte finish  combined to create a sleek, streamlined feel that complements minimalist furnishings and midcentury-inspired touches. Also wood with more character, nodes and forms are a great way to make your floors look unique,  one of a kind. You can find water based satin finish  here
Either solid,  Prefinished, or Engineered the trend is wide boards or planks.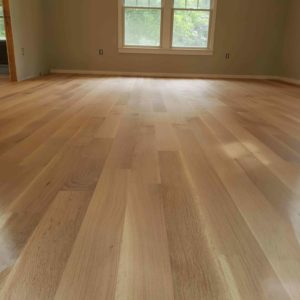 White Oak with Rubio Monocoat
Grays and Whites 
When talking about stain colors, the trend continues from last year  whites and grays are big, wood with an aged, white wash, and beach look are booming again, while the high gloss floors will be replaced by matt or satin finishes. Among the colors that will be used for the floors, in particular of the kitchens, we highlight the medium and deep gray tones that will set the trend, as well as the beige or honey tones.
Dark Browns
Timeless Elegance, stain colors like Dark walnut, Mahogany and Provincial from Duraseal will give an special vintage touch to your room, what is fun about hardwood floors is that you can create a different ambiance in a room just by changing the color, and adding elements in decor. With dark tones you can also achieve a more edgy contemporary look.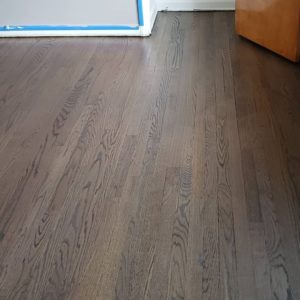 Textures,
Reclaimed wood , distressed, and hand scrapped floors. 
If you want to keep your house up to date, combine the color of your floor, with the furniture and walls in the appropriate way, to get the most out of each area, and remember doesn't matter what the trend is, you have to feel happy and comfortable when you look around in your own home.