Hardwood Floor Refinishing Maplewood NJ
Looking to get your Hardwood Floor Refinishing  Maplewood NJ? That  is the best way of increasing the value of your home while simultaneously beautifying your space. Wood floors can add value to your home,  if you are looking to get your floors refinished or to install new  Hardwood Floors in Maplewood  NJ, you are in the right place, we have been serving all area for more than 10 years.
The process of Refinishing your hardwood floor is done by our craftsmen that are skilled and experienced and basically this is what Hardwood Floor Refinishing consist of:
We sand all the finish of the existing floor and remove approximately 1/32″ of wood that will remove any scratch.Floors are then coated with polyurethane, most 3/4″ hardwood floors can be sanded up to six times, as long as done by professionals .You can choose the finish of your choice, there is water based polyurethane and Oil based polyurethane,
You can also choose to have your hardwood floors stain before the varnish is applied, that will be giving a different color to your wood, but not all woods can take stain,  we will always give you a professional advice.
For  more details click here  Hardwood Floor Refinishing or  call for more information and get a free estimate 973-336-0927.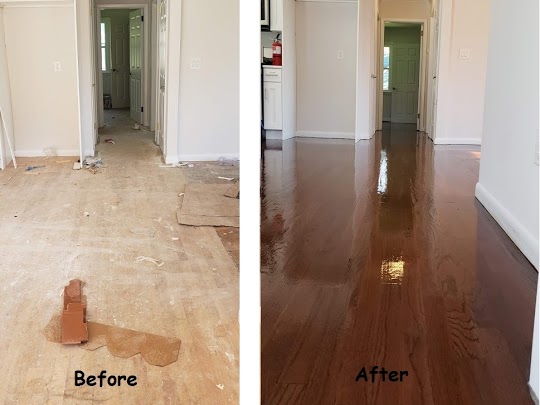 Wood Floor Installation Mapewood NJ
Wood floors increase your home's market value, you can't go wrong with installing new hardwood floors they have  natural beauty and go with any decor.
We at Wix Flooring Install all kind of Hardwood Floors domestic and exotic species unfinished and Factory Finished, laminates and Luxury Vinyl Planks.
We provide High-End  flooring services, research to see what our customers say about us, visit our social media and follow us.
Our services include:
+ Sanding and refinishing
+ Installation of new hardwood floors
+ Refinishing old hardwood floors
+ Custom staining
+ Custom floor designs
+ Installation of Solid Hardwood
+ Laminate Floor Installations
+ Engineered wood Installations
+ Pre-finished Hardwood Installations
+ Sanding Hardwood
+ Refinishing Wood Floors
+ Repairs
+ Installations of Luxury Vinyl Planks
+ Unfinished Solid Wood Installs